At Guldkyllingen you get the real and original BBQ chicken, the chickens are of an award-winning quality and therefore particularly meaty. The chickens are also fresh and are therefore not added with excess water or brine. The chickens have been living a good life in modern barn with quality feed, clean water and bedding as well as daylight. There is a guarantee that your chicken is still juicy, and the chicken is cooked in a way where it retains its juicy meat and at the same time gets a delicious and crispy skin – just like a grilled chicken should be cooked.
For your chicken, we also offer delicious accessories such as pickled cucumbers, homemade coleslaw and the most delicious low-fat french fries.
Guldkyllingen at Vejlby Fed Strand Camping is open most weekends.
From 30.6-31.7 2023 we are open every day.
Order by phone 31 61 70 15
See the menu card further down the page.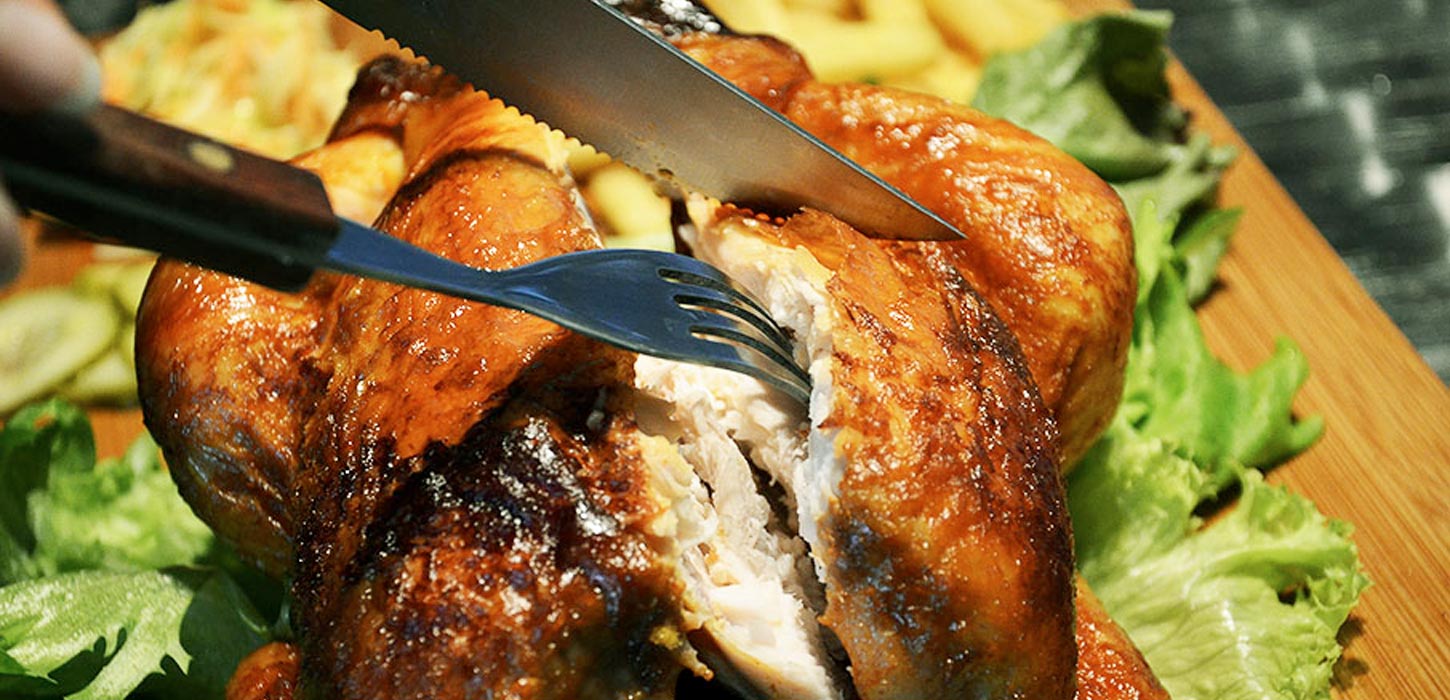 Flame grilled BBQ chicken
1/1 Guldkylling – 99,-
1/2 Guldkylling – 59,-
Crispy chicken pieces
GuldNuggets – 5 stk. 39,- / 10 stk. 64,-
Chicken strips – 5 stk. 39,- / 10 stk. 64,-

Accessories
1 tray of french fries – 39,-
1 coleslaw – 25,-
1 cucumber salad – 5,-
Dipping – 6,-
Free choice between ketchup, french fries sauce or remoulade
Mini Snack MENU
5 x nuggets or strips, incl. little fritters – 59,-
Big Snack MENU
10 x nuggets or strips, incl. fritters – 89,-
Dinner for 1 MENU
1/2 Guldkylling + french fries + cucumber salad + dipping – 95,-
Dinner for 2 MENU
2 x 1/2 Guldkylling + french fries + coleslaw + cucumber salad + dipping – 179,-
GoldMENU
2 x 1/2 Guldkylling + 2 x french fries + coleslaw + cucumber salad + dipping – 219,-
FamilyMENU
4 x 1/2 Guldkylling + 2 x french fries + coleslaw + cucumber salad + dipping – 349,-

Book online and save money
4 days – save 100, – | 7 days – save 300, – | 14 days – save 600, –